This mature 18 hole golf course first opened in 1934 and is nestled on the shore of Georgian Bay between Owen Sound and Collingwood Ontario. Meaford can be reached from Toronto by car in just over two hours.
This golf course features 14 strategically placed ponds and 3 natural creeks which enhance both the difficulty and beauty of this golf course.
These features combined with the naturally rolling topography will challenge all levels of players from the beginner golfer to the professional. This twin 9 hole configuration is a must play for the avid golfer even if your time is constrained.
Scorecard and Course Routing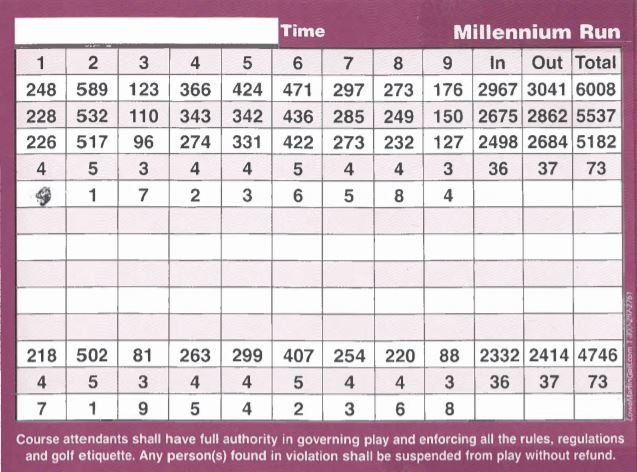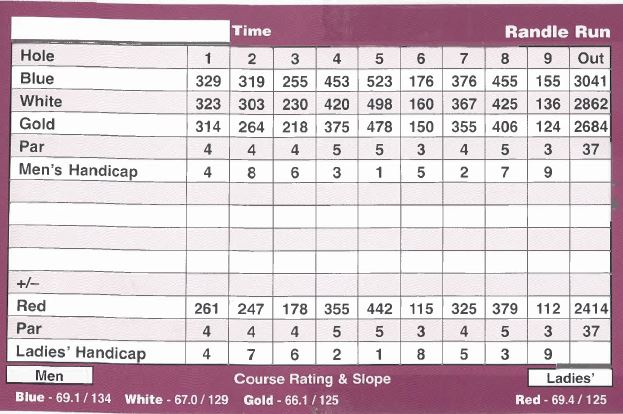 Course Ratings
Men
18
Millennium
Randle
Yards
Rating
Slope
Yards
Rating
Slope
Yards
Rating
Slope
Blue
5727
67.9
127
2872
34.7
134
3071
34.4
133
White
5340
65.9
120
2652
33.5
127
2917
33.5
131
Gold
4945
64.7
107
2421
33.0
125
2742
33.1
124
Red
4658
63.5
102
Ladies
18
Yards
Rating
Slope
Millennium
Randle
Blue
5727
74.0
129
Yards
Rating
Slope
Yards
Rating
Slope
White
5340
71.3
124
2872
37.5
144
3071
37.9
138
Gold
4945
69.2
120
2652
36.0
134
2917
36.6
138
Red
4658
67.5
117
2250
34.4
123
2593
35.0
126